NEWS
EVENTS
EVENT DATE : 2022.01.13
Study in Japan Online Academic Seminar in Natural Science for Indonesia
We will hold the Study in Japan Online Academic Seminar in Natural Science for Indonesian students who want to study in Japan.




Date and Time: Thursday 13th JANUARY 2022, 13:00-14:30(Japan Time, GMT+9)
*It will be started from 15:00 (East Indonesia) / 14:00 (Central Indonesia) / 13:00 (West Indonesia).


Venue: Online (Zoom)


Participation Fee: FREE of charge
* E-Certificate will be given to the participants after the seminar.


Program:



Introduction of Kumamoto University & Mock-lecture "Testing endocrine disrupting chemicals in fish"
[Speaker] Prof. Mitsuyo KISHIDA, Faculty of Advanced Science and Technology, Kumamoto University


Introduction of Nagasaki University & Mock-lecture "Coastal Current Observations in the Ariake Sea, Japan by Means of DBF Ocean Radar"
[Speaker] Prof. Akihide TADA, Center for Japanese language and Student Exchange, Nagasaki University


Students Experience Sharing by Indonesian Students


Q&A session


Study in Japan, Scholarship Information
▼ Registration from here!
https://contact.schoolynk.com/application/?formId=61c51876668e0a000ed9712e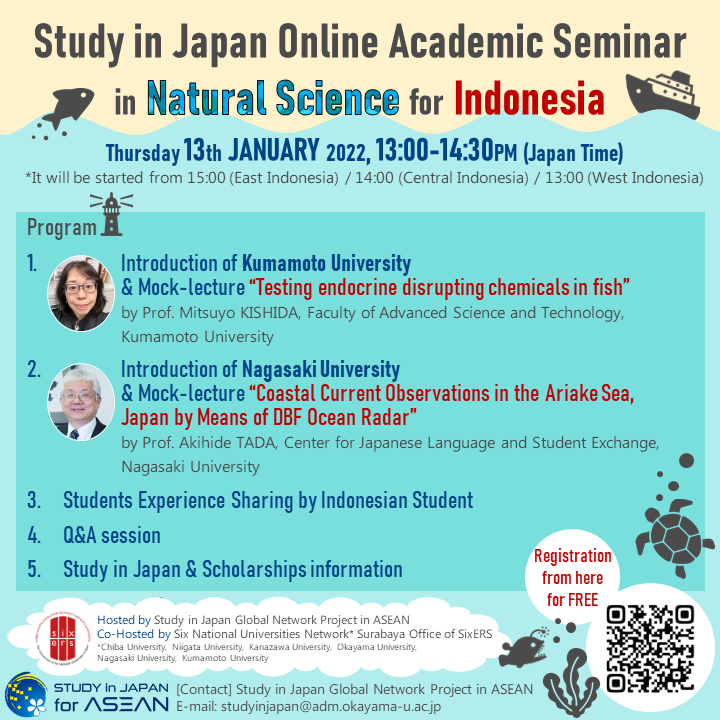 "Study in Japan Global Network Project (ASEAN)" ဆိုသည်မှာ အဘယ်နည်း?
Study in Japan Global Network Project (ASEAN)ဆိုသည်မှာ မြန်မာနိုင်ငံကို အစပြုကာ
အရှေ့တောင်အာရှဒေသများမှ နိုင်ငံခြားသားပညာသင် ကျောင်းသားဦးရေကို ၂၀၂၃ခုနှစ်တွင်
၁.၅ဆတိုးလာစေရန် ရည်ရွယ်၍ အိုကာယာမတက္ကသိုလ်က ဂျပန်အစိုးရ၏ အထောက်အပံ့ဖြင့်
ဤပရောဂျက်ကို တာဝန်ယူဆောင်ရွက်လျက်ရှိပါသည်။