NEWS
EVENTS
EVENT DATE : 2022.01.05
Study in Japan Online Seminar in Science
We will hold the Study in Japan Online Seminar in Science for ASEAN people who want to study in Japan.




Date and Time: Wednesday 5th JANUARY 2022, 15:00-16:30(Japan Time, GMT+9)
*15:00-16:30 (East Indonesia)
*14:00-15:30 (Philippines, Malaysia, Singapore, Brunei, Central Indonesia)
*13:00-14:30 (Cambodia, Thai, Laos, Vietnam, West Indonesia)
*12:30-14:00 (Myanmar)


Venue: Online (Zoom)


Participation Fee: FREE of charge


Program:



Introduction of Nagasaki University and Mock-levture "Development of Functional Elastomer and Adhesive"
[Speaker] Prof. Hiroto Murakami, Graduate School of Engineering at Nagasaki University


Introduction of Okayama University and Mock-lecture "Chemical Synthesis of Biologically Active Natural Compounds"
[Speaker] Prof. Isao Kadota, Graduate School of Natural Science and Technology at Okayama University


International Student Experience Talk


Q&A session


Study in Japan, Scholarship Information
▼ Registration from here!
https://contact.schoolynk.com/application/?formId=61aeefaa792a8a001b022eb8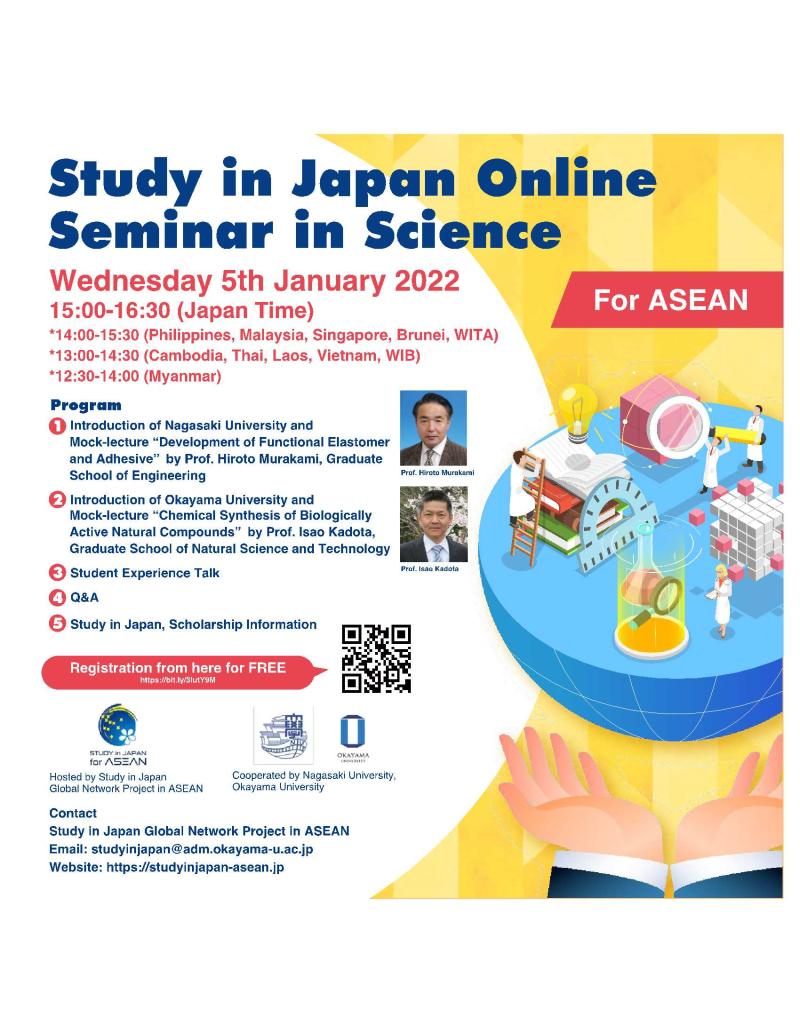 "Study in Japan Global Network Project (ASEAN)" ဆိုသည်မှာ အဘယ်နည်း?
Study in Japan Global Network Project (ASEAN)ဆိုသည်မှာ မြန်မာနိုင်ငံကို အစပြုကာ
အရှေ့တောင်အာရှဒေသများမှ နိုင်ငံခြားသားပညာသင် ကျောင်းသားဦးရေကို ၂၀၂၃ခုနှစ်တွင်
၁.၅ဆတိုးလာစေရန် ရည်ရွယ်၍ အိုကာယာမတက္ကသိုလ်က ဂျပန်အစိုးရ၏ အထောက်အပံ့ဖြင့်
ဤပရောဂျက်ကို တာဝန်ယူဆောင်ရွက်လျက်ရှိပါသည်။