NEWS
EVENTS
EVENT DATE : 2021.11.29
Study in Japan Online Seminar in IT Engineering
We will hold Study in Japan Online Seminar in IT Engineering for ASEAN people who want to study in Japan.




Date and Time: Monday 29th NOV 2021, 13:00-14:30(Japan Time, GMT+9)
*12:00-13:30 (Philippines, Malaysia, Singapore, Brunei, WITA)
*11:00-12:30 (Cambodia, Thai, Laos, Vietnam, WIB)
*10:30-12:00 (Myanmar)


Venue: Online (Zoom)


Participation Fee: Free of charge


Program:



Introduction of University of Miyazaki, Graduate School & Mock Lecture "Interdisciplinary Approach to ICT based Smart Dairy Farming"
[Speaker] Professor Thi Thi Zin from Faculty of Engineering at University of Miyazaki


Introduction of Okayama University, Graduate School & Mock Lecture "Programming Learning Assistant System"
[Speaker] Professor Nobuo Funabiki from Graduate School of Natural Science and Technology at Okayama University


Student Experience Sharing


Q&A session


Study in Japan and Scholarships Information
▼ Registration from here!
https://contact.schoolynk.com/application/?formId=6188d1b1c00760001b64550b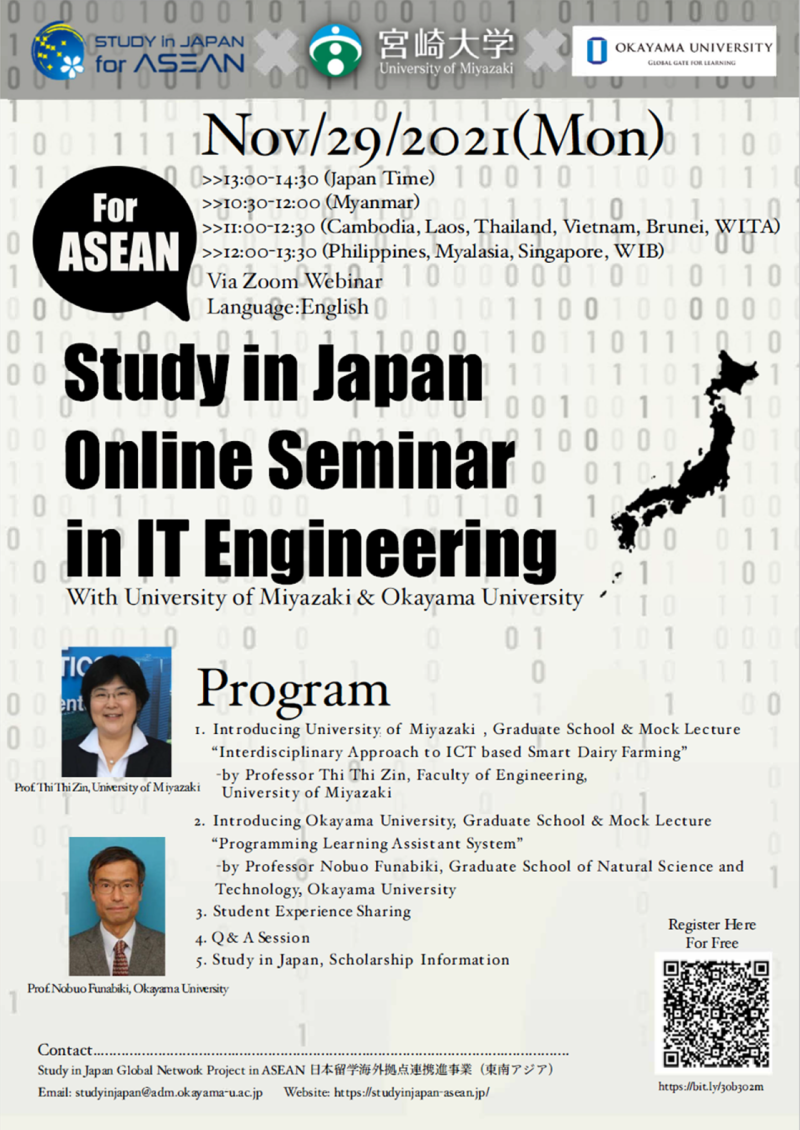 "Study in Japan Global Network Project (ASEAN)" ဆိုသည်မှာ အဘယ်နည်း?
Study in Japan Global Network Project (ASEAN)ဆိုသည်မှာ မြန်မာနိုင်ငံကို အစပြုကာ
အရှေ့တောင်အာရှဒေသများမှ နိုင်ငံခြားသားပညာသင် ကျောင်းသားဦးရေကို ၂၀၂၃ခုနှစ်တွင်
၁.၅ဆတိုးလာစေရန် ရည်ရွယ်၍ အိုကာယာမတက္ကသိုလ်က ဂျပန်အစိုးရ၏ အထောက်အပံ့ဖြင့်
ဤပရောဂျက်ကို တာဝန်ယူဆောင်ရွက်လျက်ရှိပါသည်။