NEWS
EVENTS
EVENT DATE : 2021.05.21
Online Study in Japan Seminar ~Let's Prepare for MEXT Scholarship~
We will hold "Online Study in Japan Seminar ~Let's Prepare for MEXT Scholarship~" for Laos.

Date and Time: Friday 21 May 2021, 16:00-18:00 (Laos)

Venue: Online Zoom Meetings

Program:


Study in Japan information
Yusuke NII, Study in Japan Coordinator, Study in Japan Global Network Project in ASEAN Regional Office in ASEAN, Bangkok Branch


Introduction of Ritsumeikan Asia Pacific University
Meena MOORTHY, Admissions Counselor, Ritsumeikan Asia Pacific University


MEXT scholarship orientation
Luanghan SOULASITH, MEXT Scholarship Advisor, Embassy of Japan in Lao PDR


Study in Japan Experience Talk
Synthis VONGHEUANGSY, 2020 MEXT Scholarship Awardee, Okayama University


▼Registration from here for FREE!
https://forms.gle/XhAGwgiGhGL7hW4VA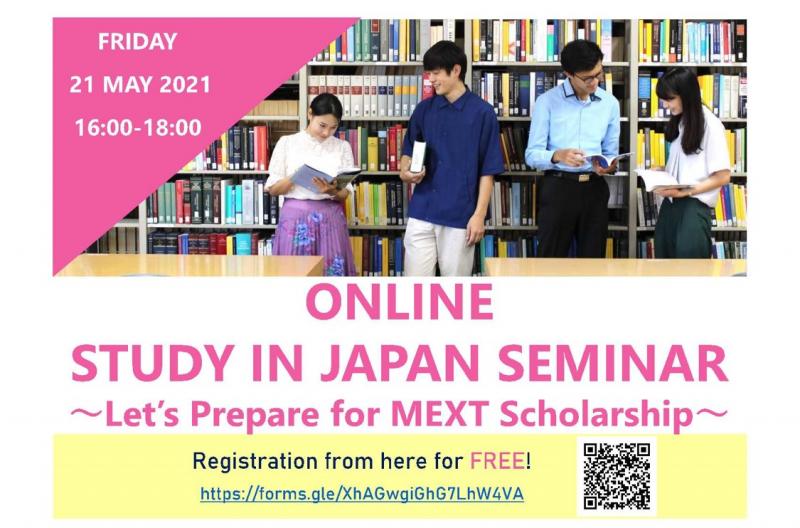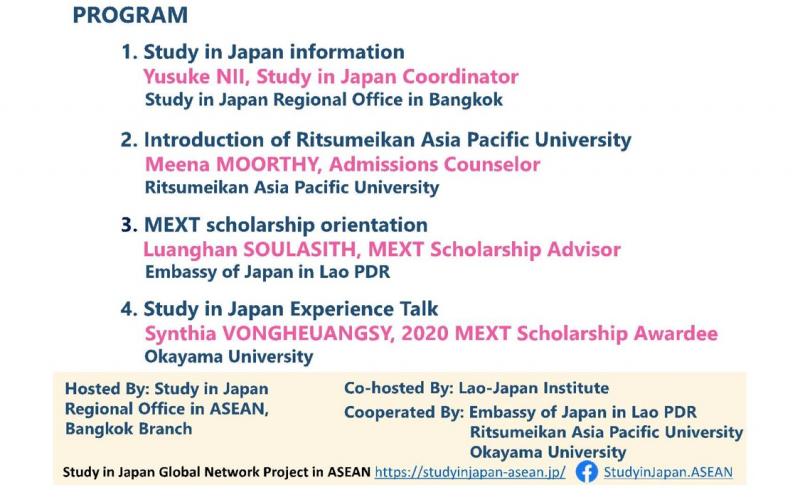 "Study in Japan Global Network Project (ASEAN)" ဆိုသည်မှာ အဘယ်နည်း?
Study in Japan Global Network Project (ASEAN)ဆိုသည်မှာ မြန်မာနိုင်ငံကို အစပြုကာ
အရှေ့တောင်အာရှဒေသများမှ နိုင်ငံခြားသားပညာသင် ကျောင်းသားဦးရေကို ၂၀၂၃ခုနှစ်တွင်
၁.၅ဆတိုးလာစေရန် ရည်ရွယ်၍ အိုကာယာမတက္ကသိုလ်က ဂျပန်အစိုးရ၏ အထောက်အပံ့ဖြင့်
ဤပရောဂျက်ကို တာဝန်ယူဆောင်ရွက်လျက်ရှိပါသည်။