NEWS
EVENTS
EVENT DATE : 2022.05.10
Study in Japan Academic Webinar on Economics
We will hold the Study in Japan Academic Webinar on Economics for Cambodian who want to study in Japan.




Date and Time: Tuesday 10th MAY 2022, 9:00-11:00(Cambodia Time)


Venue: Online (Zoom)


Participation Fee: FREE of charge


Program:



Introduction of Study in Japan and Scholarships


Student Experience Sharing


Special Lecture on Trade and Investment in ASEAN and Cambodia:
Toward an Economic Recovery after COVID-19
[Speaker] Prof. Hikari ISHIDO, Graduate School of Global and Transdisciplinary Studies, Chiba University


Q&A session
▼Registration from here!
https://contact.schoolynk.com/application/?formId=624a3f5eea41c1002f6fea0c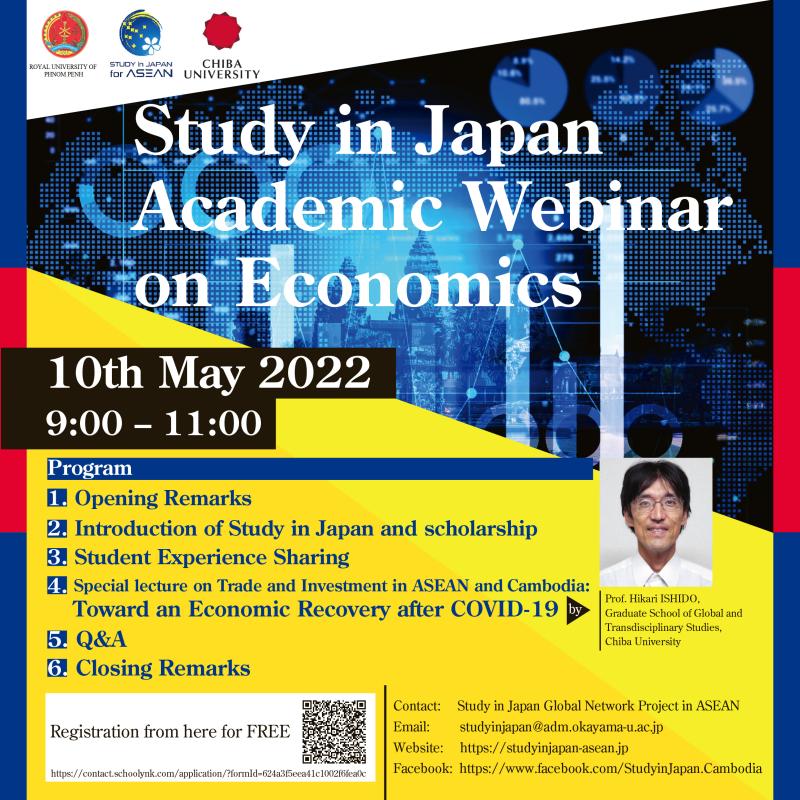 ໂຄງການສຶກສາຮຽນຕໍ່ໃນປະເທດຍີປຸ່ນ ໂຄງການເຄືອຂ່າຍທົ່ວໂລກ (ອາຊຽນ) ແມ່ນເປັນໂຄງການແນວໃດ?
ມະຫາວິທະຍາໄລໂອະກະຍະມະໄດ້ຮັບມອບໝາຍຈາກ MEXT ໃຫ້ເພີ່ມຈໍານວນນັກສຶກສາຕ່າງຊາດຈາກອາຊຽນ ASEAN 1.5 ເທົ່າ ໃນ5 ປີ.