NEWS
EVENTS
EVENT DATE : 2022.07.14
Study in Fukuoka Seminar for ASEAN
We will hold the "Study in Fukuoka Seminar for ASEAN" in cooperation with Fukuoka City in order to promote the attractiveness of Fukuoka and Study in Japan to prospective ASEAN students who wish to study in Japan.
At the seminar, you will be able to hear and obtain in a lot of information about Fukuoka City's support for international students, Fukuoka City's scholarships information, university introductions of Fukuoka University and Kyushu University, study in Fukuoka experience by current international students.




Date and Time: Thurs day 14th JULY 2022, 15:00-16:45 (Japan Time)
*12:30-14:15 (Myanmar)
*13:00-14:45 (Cambodia, Laos, Thailand, Vietnam, Central Indonesia)
*14:00-15:45 (Philippines, Malaysia, Singapore, Brunei, West Indonesia)
*15:00-16:45 (East Indonesia)


Venue: Online (Zoom Webinar)


Participation Fee: FREE of charge


Program:



Fukuoka City and Scholarship Information
by Fukuoka City and Fukuoka City International Foundation


Introduction of Fukuoka University
by Assoc. Prof. Shinya SUZUKI, Department of Civil Engineering, Faculty of Engineering, Fukuoka University


Introduction of Kyushu University
by Prof. Natalie KONOMI, Global Strategies Office, Kyushu University


Study in Fukuoka Experience Sharing
by International Students from Fukuoka University (Indonesia) and Kyushu University (Malaysia)


Q&A session


Study in Japan General Information
▼Registration from here!
https://contact.schoolynk.com/application/?formId=6290637b6fe232000ebea15f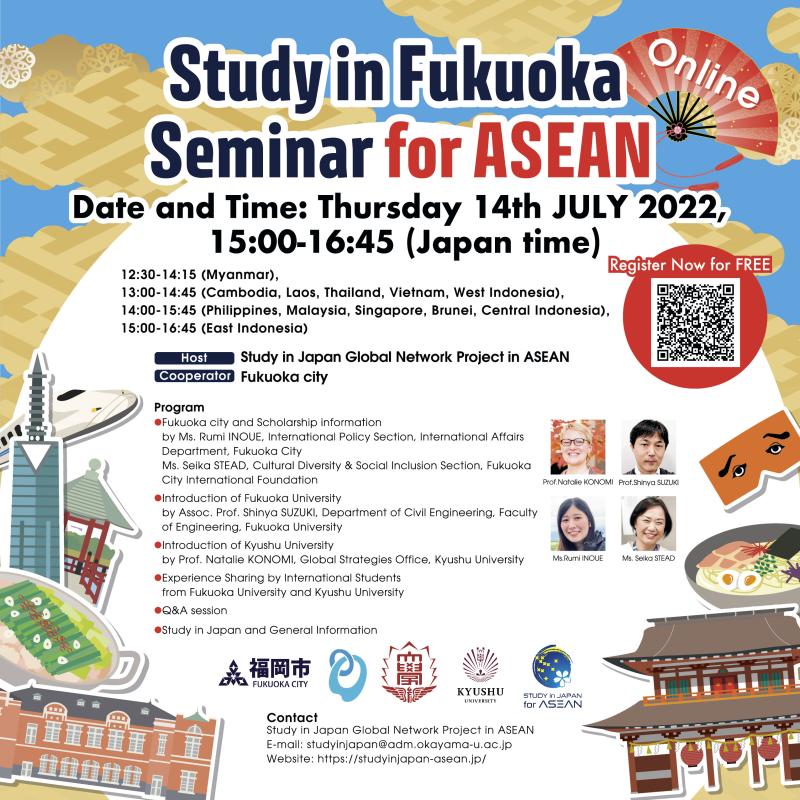 តើអ្វីទៅជា"គំរោងបណ្តាញសកលនៃការសិក្សានៅប្រទេសជប៉ុន(អាស៊ាន)"?
សាកលវិទ្យាល័យអូកាយ៉ាម៉ាត្រូវបានប្រគល់ភារកិច្ចពី MEXT ដើម្បីបង្កើនចំនួននិស្សិតអន្តរជាតិពីអាស៊ានចំនួន ១,៥ ដងក្នុងរយៈពេល ៥ ឆ្នាំ។