NEWS
EVENTS
EVENT DATE : 2022.09.21
Study in Japan x CAREER WEBINAR
We will hold the "Study in Japan x CAREER WEBINAR" for ASEAN people who wish to study in Japan, and want to work in Japan after studying in Japan.
If you considering to work in Japan after studying in Japan, you should join the seminar.

Have you ever considered working in Japan after studying in Japan?
If so, don't miss out the opportunity to join our next Career Webinar on 21st September!

You will get a lot of advice from a career professional and alumnus who studied in Japan and has successfully developed career in Japan.
Participation is free of charge.




Date and Time: Wednesday 21st September 2022, 15:00-16:30 (Japan Time)
*12:30-14:00 (Myanmar)
*13:00-14:30 (Cambodia, Laos, Thailand, Vietnam, Central Indonesia)
*15:00-15:30 (Philippines, Malaysia, Singapore, Brunei, West Indonesia)
*15:00-16:30 (East Indonesia)


Venue: Online (Zoom)


Participation Fee: FREE of charge


Program:



Advice on working in Japan from a Japanese business expert


Experience and information sharing about career path in Japan


Study in Japan & Scholarship Information
▼Registration from here!
https://contact.schoolynk.com/application/?formId=6305b49ba7111d0039cd93f3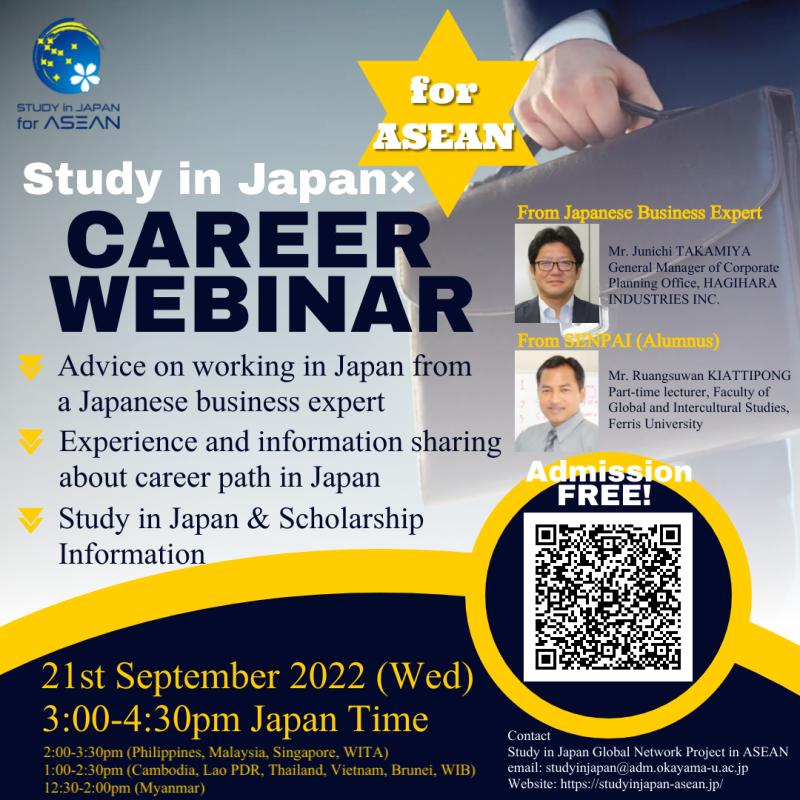 ໂຄງການສຶກສາຮຽນຕໍ່ໃນປະເທດຍີປຸ່ນ ໂຄງການເຄືອຂ່າຍທົ່ວໂລກ (ອາຊຽນ) ແມ່ນເປັນໂຄງການແນວໃດ?
ມະຫາວິທະຍາໄລໂອະກະຍະມະໄດ້ຮັບມອບໝາຍຈາກ MEXT ໃຫ້ເພີ່ມຈໍານວນນັກສຶກສາຕ່າງຊາດຈາກອາຊຽນ ASEAN 1.5 ເທົ່າ ໃນ5 ປີ.