NEWS
EVENTS
EVENT DATE : 2022.07.29
Japanese Pop Culture Seminar ~Let's talk with Chiba University students in Japanese!~
We will hold the "Japanese Pop Culture Seminar ~Let's talk with Chiba University students in Japanese!~" for ASEAN students who wish to study in Japan.
At the seminar, you will learn the Japanese Pop Culture from Chiba University's students, and enjoy exchanging with them in Japanese language as well.

*We will close the application once we have a certain number of participants, so please apply as soon as possible.
*Please note that this event will be conducted all in Japanese. JLPT N3 or higher is recommended for participation because you will be asked to speak in Japanese at the interaction session.




Date and Time: Friday 29th JULY 2022, 16:10-17:40 (Japan Time)
*13:40-15:10 (Myanmar)
*14:10-15:40 (Cambodia, Laos, Thailand, Vietnam, Central Indonesia)
*15:10-16:40 (Philippines, Malaysia, Singapore, Brunei, West Indonesia)
*16:10-17:40 (East Indonesia)


Venue: Online (Zoom Meetings)


Participation Fee: FREE of charge


Program:



Presentation on "Japanese Pop-culture" by Chiba University Japanese Students


Interexchange Session with Chiba University Students


Study in Japan, Scholarship Information Session
▼Registration from here!
https://forms.gle/duax87pDpZe6Xnz87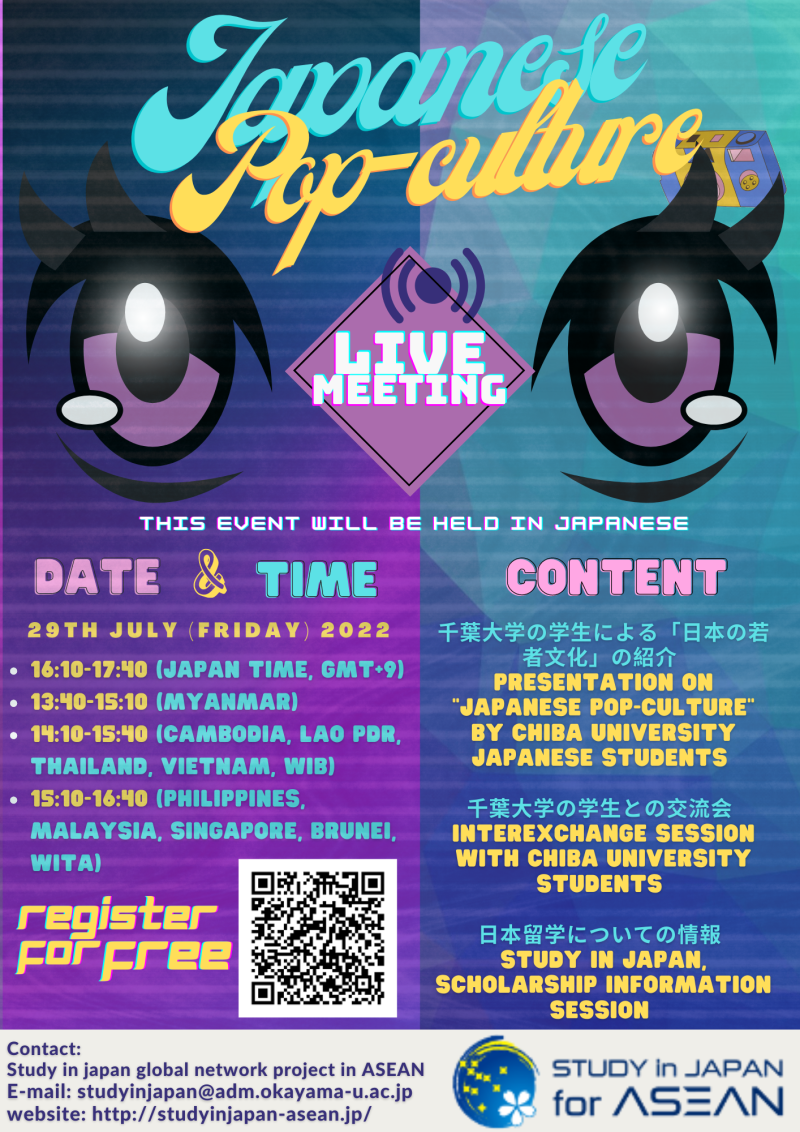 ໂຄງການສຶກສາຮຽນຕໍ່ໃນປະເທດຍີປຸ່ນ ໂຄງການເຄືອຂ່າຍທົ່ວໂລກ (ອາຊຽນ) ແມ່ນເປັນໂຄງການແນວໃດ?
ມະຫາວິທະຍາໄລໂອະກະຍະມະໄດ້ຮັບມອບໝາຍຈາກ MEXT ໃຫ້ເພີ່ມຈໍານວນນັກສຶກສາຕ່າງຊາດຈາກອາຊຽນ ASEAN 1.5 ເທົ່າ ໃນ5 ປີ.