NEWS
EVENTS
EVENT DATE : 2021.10.05
Study in Japan x Career Webinar for Vietnam and ASEAN
Vietnam
Seminar
Online
Career
We will hold Online Career Webinar for Vietnam and ASEAN people who want to study in Japan.
This webinar is all in Japanese language.
We are welcome students who are interested in business Japanese and thinking about building a career in Japan after studying in Japan.




Date and Time: Tuesday 5th October 2021, 15:00-17:00(Japan Time, GMT+9)
*14:00-16:00 (Philippines, Malaysia, Singapore, Brunei)
*13:00-15:00 (Cambodia, Thai, Laos, Vietnam, WIB)
*12:30-14:30 (Myanmar)


Venue: Online (Zoom)


Participation Fee: Free of charge


Program:



Introduction of Kansai University and Mock Lecture about "日本社会で求められるビジネス日本語能力とは?"
by Assoc. Prof. FURUKAWA Tomoki from Kansai University


Introduction of Graduate Institute for Entrepreneurial Studies and Mock Lecture about "ビジネスプラン作成法をなぜ学ぶのか?何を学ぶのか?"
by Prof. SUGIMOTO Hitoshi from Graduate Institute for Entrepreneurial Studies


Students Experience Talk by Students from Vietnam


Q and A session


Study in Japan and Scholarships Information
by Study in Japan Coordinator
▼ Registration from here!
https://bit.ly/3C0DNYU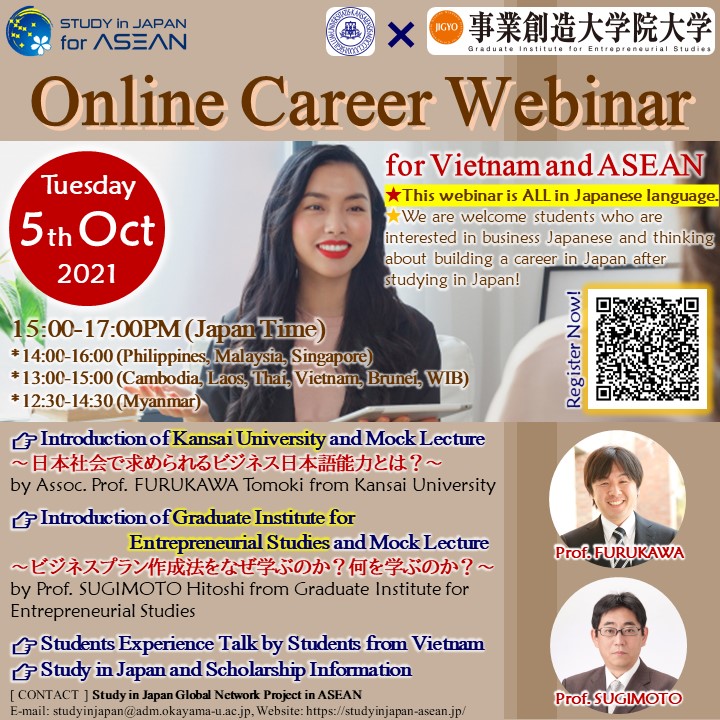 What is "Study in Japan Global Network Project (ASEAN)"?
Okayama University was tasked by MEXT to increase the number of international students from ASEAN 1.5 times in five years.